Lancair 320/360 Wheel & Brake Upgrade

• Improved braking power
• Longer brake pad life
• Felt Dust Seals
• Dual piston calipers
Upgrade Kit includes wheels, brakes, and axles
and spacer for the Standard and Outback.
The Legacy Kit does not include an axle. .

The Standard and Outback use the same wheels but different axles. The Standard uses a P/N 5020 axle and the Outback uses a P/N 5021 axle.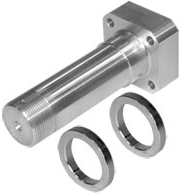 Standard Upgrade Kit
For Models with 11.4 x 5 Tires
Includes P/N 5020 Axle
Alum Wheel Kit 56-516 $1,879
Mag Wheel Kit 56-616 $2,019


Outback Upgrade Kit
For Models with 500 x 5 Tires
Includes P/N 5021 Axle
Alum Wheel Kit 56-516OB $1,879
Mag Wheel Kit 56-616OB $2,019


Legacy Upgrade Kit
Does not include axle
Alum Wheel Kit 57-124 $1,989
Mag Wheel Kit 57-224 $2,179
Nose Wheel Upgrade Kits for Lancair 320, 360 & Legacy

Kit includes wheel and adapter bushings. Use your existing, tire, tube and axle hardware.

Alum Wheel Kit 59-3A-LA $579.00
Mag Wheel Kit 59-3M-LA $629.00