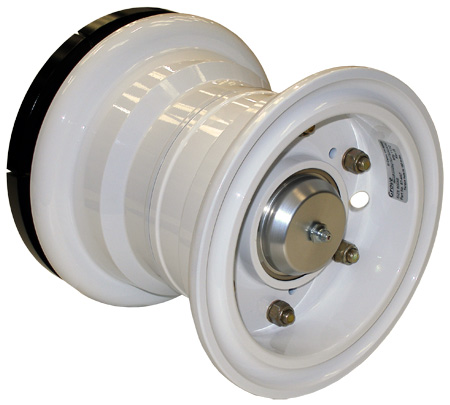 Grove amphibious wheels are shipped with the wheel bearings packed with either "Green Grease No 2" Omni Lubricants, Ltd, Lewisville, TX, or "Corrosion Block Grease" Lear Chemical Research Corp, Mississauga, ON. Canada, and do not need to be re-packed prior to use.

Prior to installation of the wheels on the aircraft, coat the inside of each wheel-half with a light coating of grease to inhibit corrosion.

The installation configuration MUST have a means to purge the grease cavity after every water operation to prevent damage/corrosion to the wheel bearings. The means to do this, such as a grease fitting in the axle, vary with each aircraft and is the responsibility of the installer to insure to that a "purge method" is incorporated into the installation..

At each annual and 100 hour inspection remove the wheel bearings. Inspect for corrosion and replace if necessary. Re-pack the bearings with either Green Grease No 2, or Corrosion Block Grease. Check the wheel-halves for corrosion, clean and re-coat with a light coating of grease to inhibit corrosion. Re-assemble the wheel using new grease seals.

Follow the float manufactures instructions for continued maintenance following water operations.